---
If you turn off the Business Loop onto Grand, you'll notice a small park where children from all over the neighborhood come to play. The backdrop to their activities is a mural spanning the length of the park, designed and completed by the kids of Jabberwocky Studios and "dedicated to the people of this community."
Just across Business Loop nestled behind Carpet One is Jabberwocky Studios, a place designed to bring kids from neighborhoods all across Columbia together for workshops, arts activities, dances, and performances. Their mission is to empower and enfranchise participants through the arts while celebrating the diversity of our community—and it's also a ton of fun.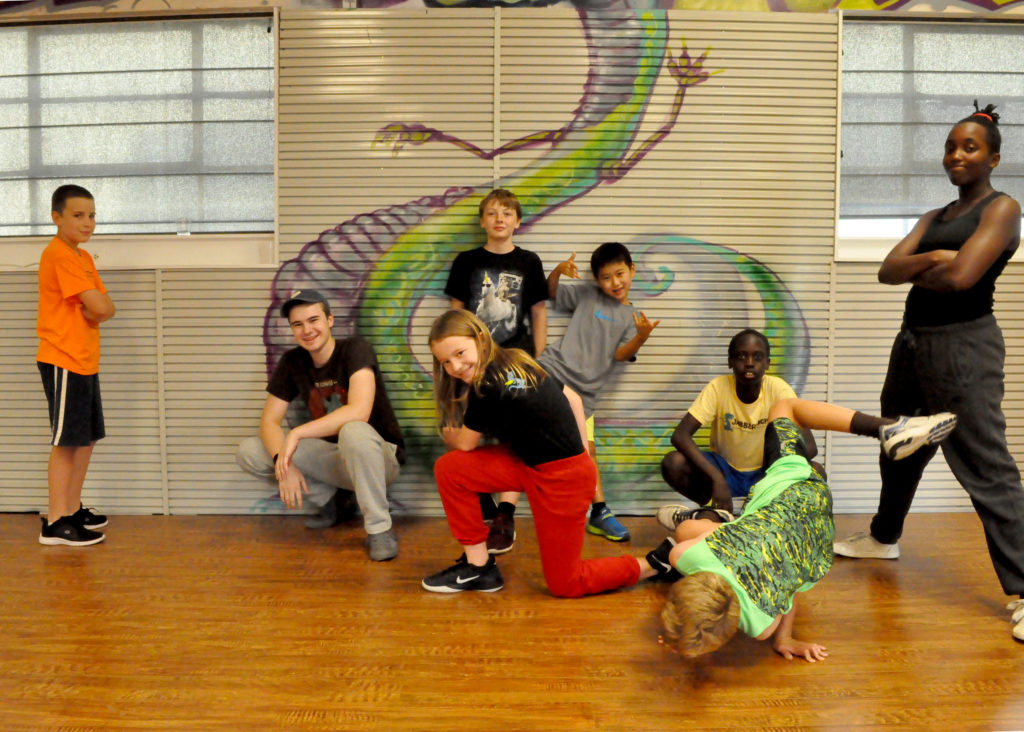 The studio offers classes in alternative arts like hip-hop dancing and slam poetry and even Bollywood dancing for both children and adults. Whether its dance, art, or music, there's not a moment that passes at Jabberwocky Studios where there are no smiles.
Executive Director Linda Schust says the idea behind Jabberwocky Studios is to bring people together to learn about the differences between them and foster respect for those differences. It's a worthy goal and Linda has a lot of help. Jabberwocky is a not-for-profit and Linda and her team of teachers, artists, and dancers rely on support from local businesses and institutions.
The studio partners with Hickman High School, and uses Hickman's resources to help create many of the programs Jabberwocky Studios offers. They are also supported by many of the businesses along The Loop, like Carpet One Columbia. That sense of community is imperative to the success of programs and organizations like Jabberwocky.
"As things start to come together on the Business Loop, that sense of community will only become stronger," says Linda.
During the summers, they work with youth participants to provide activity programs or employment. Lately, the kids have spent their time designing murals like the one in Downtown Optimist Park, and then go out and bring them to life. There are currently four murals in Columbia and the kids are probably scheming about a fifth. During the fall and winter months, they shift to more indoor activities like dancing, singing, and performances.
For a full listing of classes, check out their online course calendar. And if you're inspired by their work, stop by and chat with Linda about ways you may be able to help support Jabberwocky Studio.
Find Linda and her crew at:
Jabberwocky Studios
1308 Grand Ave.
(573) 475-4618
What does it mean to shop local? It means having a real conversation with a shop owner who knows their stuff and will share their expertise with you. Whether it's tuning up your car or sprucing up your house, grilling a steak or planting a garden, we have the knowledge and the tools to get the job done. Here on The Loop, we're real people, ready to help.
Read our other Shop Local Stories.