A public informational meeting to discuss proposed enhancement design features to be included in the I-70 and Highway 63 interchange improvements has been scheduled for Wednesday, May 17 at the Walton Building, 300 S. Providence Rd., from 5:30 to 7 p.m. At the meeting, members of the public can review and comment on the proposed enhancement design elements.
Improvements to the I-70/Highway 63 interchange are expected to begin in 2025 and will take several years to complete. The I-70/Highway 63 Interchange Enhancements Project will consist of providing hardscape enhancement design concepts for MoDOT to include for the contractors to consider in the design-build request for proposals process. Landscaping elements will be added after the construction and will be tailored for the area.
The design-build request for proposals process will begin this fall. The City of Columbia, the Missouri Department of Transportation, Boone County, the University of Missouri, the Columbia Chamber of Commerce, the Loop CID, Shelter Insurance, MU Healthcare and many others are working together with a consultant to develop the enhancement design concept and provide an attractive appearance that is a reflection of Columbia and will draw people into the city.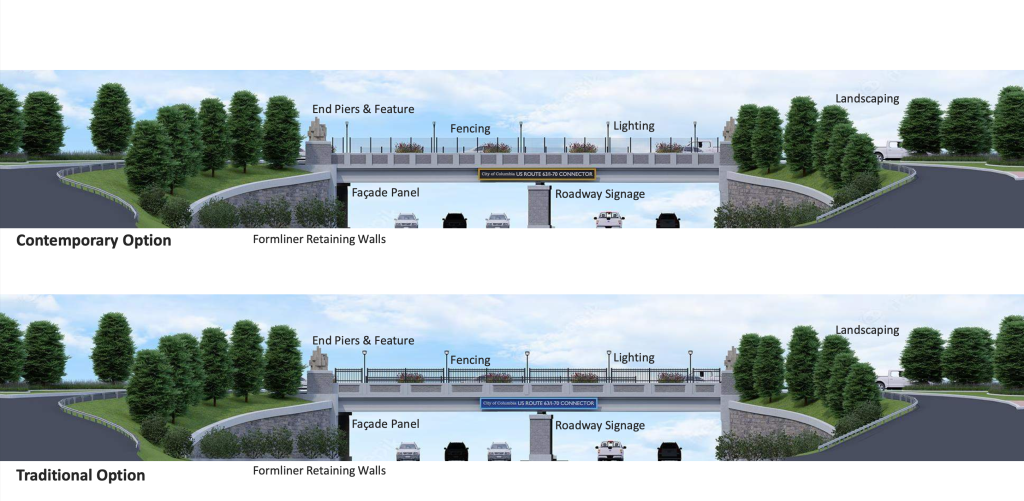 Enhancement design concepts can include both landscape and hardscape areas at the interchanges. Hardscape enhancements to be considered include:
Powder coated signal poles and roadway lighting.
Decorative pattern on the exterior guardrail and bridge facades
Decorative pattern on the interior concrete pedestrian barrier
Decorative end components on each end of the bridge
A decorative metal railing or fence on the bridge
Decorative lighting on the bridge
Decorative retaining wall systems
A custom City or County seal, street names, graphics or other features
Accent lighting under the bridge or along the bridge facade
Graphic elements to enhance components and/or create a design that reflects the community
Other custom features
The enhancement design concepts will set a precedent for other bridges over Interstate 70 and Highway 63 throughout Columbia as these bridges are reconstructed or improved in future improvement projects.
For additional information, contact Amy Schneider at (573) 441-5578 or [email protected].
Can't make the meeting? No worries! You can still ask questions and offer input by visiting https://beheard.como.gov/70-63-interchange-project.
We urge everyone to either attend the meeting or offer online input since any future improvements at I70 at West, Providence, and Rangeline will use this design as a model